Designing fashion is her greatest passion: leading fashion designer Tracy Reese tells the story of her success, confides how she bounced back after a setback, and shares a secret strategy we all can use right now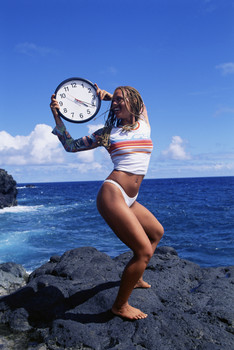 I grew up in Detroit, where my mother and I were always sewing together and making outfits, so by the time I was 16 knew I wanted to be a fashion designer. I studied at the Parsons School of Design in New York City. After graduating and working at a contemporary sportswear company for several years, I scraped together money from my family to go out on my own.
Unfortunately, that was when my biggest setback happened, in 1988 | went out of business after only a year and a half. I ran out of financing, so I couldn't afford to put goods into production to fill my retail orders.
After my business closed, Marc Jacobs, the head designer at Perry Ellis, hired me to design the company's Portfolio women's line. After that I took on other jobs to see how big corporate businesses worked. By the time I went back out on my own again in 1995 and started my label, I was ready. I knew what I wanted to achieve and how to do it. I knew the stores where I wanted my clothes to be and the buyers I needed to contact; I knew how to network. I finally had the confidence. There are plenty of setbacks in the fashion industry--and with every failure you learn a lesson.
I now have two labels: I met my business partner in 1997, and we decided to introduce Plenty, a more casual line. I am proud to have my own company with 28 people who work with me every day, and I feel so blessed to do something that I love. I have a positive can-do attitude that comes from my parents. I am happy to greet each new day for the opportunity that it presents.
My secret success strategy is to act on ideas immediately, to pounce on them. If you get an idea in the middle of the night, you'd better get up and write it down right then. Each idea takes time to implement, and the bad ideas always get edited out. But without putting it down on paper, that idea is lost forever.
Of course, there are always challenges. Once in Paris when I was working a booth at a fabric trade show, I couldn't get any service. Another American designer who was there picked up on what was happening and told the salesperson, "This is my friend Tracy, and you should help her out." So they did.
I don't know the exact reason they initially ignored me. It could have been racism or maybe it was just the French way. You can spend your whole day wondering about racism, but in most cases I find it is just better to ignore it--rise above racism.
How do I sell myself? I always have to look the part, to be that image of a designer. I usually wear a dress from my collection--it could be a cocktail dress or a beaded blouse--that I can work in. I will wear my Manolos, and I love dangling earrings. My coat is always working. It's not a "hide me" coat, it's a "notice me" coat, in a print or with a fur collar and rhinestone buttons. I can totally sell my image. It proves that the pieces I'm designing actually work.
VITA
Name: Tracy Reese
Age: 40
Hometown: Detroit
Current home base: New York City
Stress buster: "I go to the gym to do cardio and strength training about three times a week. At home I use the Winsor Pilates tape."
Power reading: "Anything by Eric Butterworth, the late Unity Church minister, especially Discover the Power Within You [HarperSan Francisco]."
Organizer: Two Rolodexes: "I'm old-school, as low-tech as they come. Paper and pen just work for me."