Retro chic: Hadley Freeman on a man who embodied the spirit of the Swinging Sixties - fashion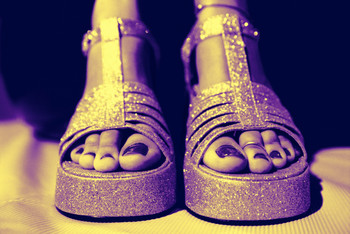 They all turned up for the opening night of the Victoria and Albert Museum s Ossie Clark retrospective: Marianne, Celia, David, Zandra--and if you need their last names, then, dahling, you weren't really part of the Sixties set, were you? You could barely see the dresses for all the excited handwaving, air-kissing and flowing kaftans. Swinging London indeed.
As one fashion magazine puts it this month, the 1960s are ever so now. There's Zandra Rhodes, with her new Fashion and Textile Museum in Bermondsey, south London; Celia Birtwell (Ossie Clark's ex-wife) making prints for the British design duo Clements Ribeiro; and I haven't even mentioned the number of brightly coloured miniskirts and little space-age dresses in many of the designer collections for next season, including Balenciaga, Marc Jacobs and Fendi.
So how hip of the V&A to stage this retrospective now. Born in Liverpool in 1942, Raymond "Ossie" Clark helped to create a very particular Sixties look--a self-consciously boho image that still survives in certain parts of Notting Hill. It was in Westbourne Grove, in fact, that Clark lived with his wife, the print designer Celia Birtwell. Sandwiched between Mary Quant and Vivienne Westwood in the history of British fashion, Clark dressed all the celebrities of the era: Bianca Jagger, Liza Minnelli, Pattie Boyd, Mick Jagger. And even though he certainly enjoyed that side of fashion, it is one of the tragedies of his life that, in recent years, he has become better known for his lifestyle and glamorous acquaintances than for his clothes.
It is thanks to his skilful tailoring that Clark's clothes retain their appeal today. In the display case that opens the exhibition, we see the different sides of his work: there is one floaty, wafty number with a Birtwell print alongside a sharply cut trouser suit and a wonderful, figure-following, mustard-coloured coat. A 1971 suit shows how his two great talents--draping and tailoring--gave his work enduring appeal through several decades: the neat, tightly tailored cropped jacket twinned with palazzo pants is more resonant of the 1970s than a Carly Simon record. But let's not overlook the prints: the scattered flowers in heady primary colours, the yellow and black circles against an emerald background, the oversized blue lilies. Birtwell's designs unquestionably helped establish Clark's reputation, but they also tended to eclipse his designs. As this exhibition makes clear, it is these distracting hippy prints, rather than the styling, that date the clothes.
Clark's biography has also come to overshadow his work. Today's designers increasingly seem to model their clothes on themselves (does any woman look more Versace than the leather-skinned, platinum-haired Donatella? And does any woman better embody the weird sexiness of a Westwood dress than Vivienne herself?). But with Clark, the easygoing beauty of his clothes makes the tawdriness of his life seem all the more poignant. After divorcing Birtwell in 1974, he became increasingly addicted to drugs and alcohol, lost all financial backing, embarked on a series of disastrous homosexual relationships and, finally, was stabbed to death by a former boyfriend in 1996.
The V&A's timely exhibition demonstrates that Clark's clothes embody more than simply a decade. The tailored Harris tweeds, the loose trousers with pin-tuck pleats, the jaunty little jackets, the sweeping, schoolmarmish long black coats and the extravagant prints--these could only have come from a British fashion house. Like the ailing world of British fashion itself, Clark destroyed himself through a combination of overambition, underfunding and lack of confidence.
"Ossie Clark"is at the Victoria and Albert Museum, London SW7 (020 7942 2000) until 2 May 2004
Hadley Freeman is a fashion editor on the Guardian