Head of the class: we claim bragging rights to these models, entertainers and authors we proudly shined a spotlight on back in the day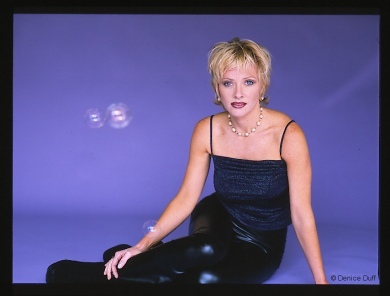 Tomiko Fraser, Maybelline model and actress
THEN: A model in our June 1995 summer fashion story, "My Secret Garden."
WHERE YOU'VE SEEN HER SINCE: Fraser is the first African-American model to land a contract with Maybelline. In 2000 she became the national spokesperson for the Lupus Foundation of America. (Her sister, Shaneequa, was diagnosed with the disease in 1997.) Switching gears to acting, Fraser has appeared in the film Head Over Heels and episodes of Soul Food and CSI: Miami.
Adewale Akinnuoye-Agbaje, actor
THEN: A model in our December 1992 holiday fashion story, featuring actress Angela Bassett.
WHERE YOU'VE SEEN HIM SINCE: The London native landed his first film roles in Congo and Ace Ventura: Pet Detective. From 1997 to 2001, Akinnuoye-Agbaje played prisoner Adebisi on the critically acclaimed drama Oz. Since then he has had roles in blockbusters The Mummy Returns and The Bourne Identity. The actor just finished filming The Mistress of the Spices in the United Kingdom.
Gary Dourdan, actor

THEN: A two-time cover model: embracing Juline Samuels on our August 1992 issue and as one of four fine men on the "How to Love a Black Man" February 1996 issue.
WHERE YOU'VE SEEN HIM SINCE: Before Dourdan landed on today's hottest TV drama, CSI, as crime-scene investigator Warrick Brown, he paid his dues on episodes of A Different World (his first aging job), Imposter, Swift Justice and Soul Food and in the film Alien Resurrection. He's now developing a film about Jimi Hendrix.
Shakara Ledard, model and actress
THEN: A bride in the February 1999 fashion story.
WHERE YOU'VE SEEN HER SINCE: While her acting career revs up--Ledard has had minor parts in the films Raising Helen and After the Sunset--catch this natural beauty in ad campaigns for L'Oreal, Clinique and Liz Claiborne. Up next, the Bahamian native stars in her first lead role, opposite Marlon Wayans, in the indie drama Behind the Smile. Directed by Damon Wayans, the film debuts this month at the Cannes Film Festival.
Boris Kodjoe, actor
THEN: A college junior selected for our February 1996 "How to Love a Black Man" cover.
WHERE YOU'VE SEEN HIM SINCE: When Kodjoe is not adding to his acting resume--Love and Basketball (his big-screen debut), Brown Sugar and the upcoming musical feature The Gospel--this German-born actor is cozying up to his fiancee, actress Nicole Parker. The couple, who played lovers in Soul Food and Second Time Around, just had a baby girl, Sophie Tei-Naaki Lee.
Norma Jean Darden, restaurateur
THEN: A model whose first print job was in the May 1970 ESSENCE premier issue.
WHERE YOU'VE SEEN HER SINCE: In 1980 Darden and her sister, Carole, penned the best-selling cookbook Spoonbread and Strawberry Wine: Recipes and Reminiscences of a Family. Today, Darden is a menu consultant and owns two New York City restaurants: Miss Maude's Spoonbread Too and Miss Mamie's Spoonbread Too.
Joy Bryant, actress
THEN: A Yale student who quit her studies to model full-time. Bryant landed on our March 1996 career-issue cover.
WHERE YOU'VE SEEN HER SINCE: With a break-through role in the Denzel Washington--directed Antwone Fisher, Bryant made the right turn to acting. Since Fisher, the Bronx native has appeared in Honey and Badassss! and played Usher's seducer-turned-thief in the minimovie Rhythm City Vol. 1--Caught Up. This August Bryant costars in the thriller Skeleton Key.
Grace Jones, icon
THEN: A fashion model who appeared in our "Pants Power" story in June 1972.
WHERE YOU'VE SEEN HER SINCE: Her international success and iconic style brought record contracts and film offers. As a singer, she released the classic "Slave to the Rhythm." Jamaican native Jones's most notable films are Conan the Destroyer (1984), A View to a Kill (1985) and Boomerang (1992). Jones is currently recording an as-yet-untitled album in London and Paris.
WORKING IT Former staff members have made it big
Gordon Chambers, songwriter and singer
DEBUT: As an ESSENCE editorial assistant in 1990.
WHERE YOU'VE SEEN HIM SINCE: By the time Chambers left his four-and-a-half-year stint as our entertainment editor in 1997, he had already cowritten Anita Baker's Grammy-winning 1994 single "I Apologize." He also cowrote Brownstone's 1995 hit single "If You Love Me." Since then Chambers has written songs for artists such as Whitney Houston, Aretha Franklin, Usher and Chaka Khan. Last December, Chambers released his indie debut album, Introducing Gordon Chambers.
Harriette Cole, life coach and author
DEBUT: As an assistant editor at ESSENCE in 1984.
WHERE YOU'VE SEEN HER SINCE: During her tenure as fashion editor from 1991 to 1995, Cole penned her first book, Jumping the Broom: The African-American Wedding Planner, published in 1993. It's considered the definitive guide to African-themed weddings, and an updated edition was published last year. In 2000 Cole wrote the etiquette tome How to Be: A Guide to Contemporary Living for African-Americans, followed by Choosing Truth: Living an Authentic Life. The author's latest wedding book, Vows, focuses on helping couples design a sacred ceremony. Look for Cole's nationally syndicated advice column, Sense & Sensitivity, in selected newspapers.
Valerie Wilson Wesley, author
DEBUT: As an ESSENCE assistant editor in 1988.
WHERE YOU'VE SEEN HER SINCE: While still an executive editor from 1994 to 1997, Wesley published the first four books in her best-selling Tamara Hayle mystery series: When Death Comes Stealing (1994), Devil's Gonna Get Him (1995), Where Evil Sleeps (1996) and No Hiding Place (1997). After leaving her high-level post, Wesley went on to pen five children's books, three more Hayle mysteries and three novels. In 2000 her novel Ain't Nobody's Business If I Do received the adult-fiction award from the Black Caucus of the American Library Association. In March Wesley published the novel Playing My Mother's Blues.
Benilde Little, author
DEBUT: As ESSENCE senior entertainment editor in 1990.
WHERE YOU'VE SEEN HER SINCE: Little's debut novel, Good Hair, was voted one of the ten best books in 1996 by the Los Angeles Times; the film rights were purchased by Natalie Cole. Two years later Little wrote The Itch and in 2003 penned The Washington Post and the Dallas Morning News best seller Acting Out. This month, the New Jersey native releases her fourth novel, Who Does She Think She Is.
Suzanne Kay Bamford, writer and producer
DEBUT: As ESSENCE entertainment editor in 1983.
WHERE YOU'VE SEEN HER SINCE: Daughter of actress Diahann Carroll, Bamford lives in South Africa with her husband, Mark Bamford. After moving there from Los Angeles in 2001, the two collaborated on Cape of Good Hope, a film about three women whose lives interweave in postapartheid South Africa. The movie won the Audience Award at the 2004 Austin Film Festival and an Honorable Mention at the 2004 Toronto Film Festival. This summer Cape of Good Hope opens at selected theaters stateside.
THE WRITE START Best-selling authors you saw here first
Bebe Moore Campbell, author
DEBUT: Her first short story, "Shopping Trip," was published in our October 1976 issue.
WHERE YOU'VE SEEN HER SINCE: Campbell, a Philadelphia native, became a contributing articles editor for ESSENCE in 1978, covering such topics as relationships. In 1992 Campbell penned her first novel, Your Blues Ain't Like Mine, and the book went on to win an NAACP Image Award for Literature. It was followed by three New York Times best sellers: Brothers and Sisters (1994), Singing in the Comeback Choir (1998) and What You Owe Me (2001). Look for Campbell's latest novel, Seventy-two Hour Hold, next month.
Iyanla Vanzant, author and spiritual life coach
DEBUT: Her first essay, "Our Children, Ourselves," was published in December 1992.
WHERE YOU'VE SEEN HER SINCE: That same year, while working with a group of women on public assistance, Vanzant wrote her first of 13 self-help books, Tapping the Power Within: A Path to Empowerment for Black Women, and started a spiritual avalanche. Five best-selling books, sold-out speaking engagements, and a Hallmark greeting-card line later, the spiritual guru is the executive director of the Inner Visions Institute for Spiritual Development.
Edward P. Jones, author
DEBUT: His first short story, "Harvest," was published in the November 1976 issue.
WHERE YOU'VE SEEN HIM SINCE; A MacArthur Foundation fellow, Jones published his first short-story collection, Lost in the City, in 1992 and won the PEN/Hemingway Award. His stunning first novel, The Known World, about slavery in the antebellum South, received the 2004 Pulitzer Prize for fiction as well as the National Book Critics Circle Award. Jones is at work on a sophomore collection of short stories.
Terry McMillan, author