Style 101: back-to-school fashion guide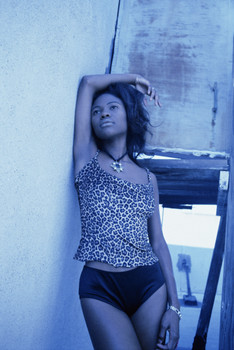 Heading to Class
AT lunchtime, nearly every college campus in the land becomes a runway. Whether the students' styles pay tribute to East Coast flava, West Coast spirit, Midwest soul or Down South charm, it's a fact that no two college divas dress alike.
Here, Dillard University students showcase various fall looks to inspire your back-to-school wardrobe.
Name: Amanda
Look: URBAN CHIC
THREADS: True Meaning jacket (Diliards); Bejeweled tank; TuTu Cute denim skirt; Antonio Melani "Stacey" fudge leather tailored boots (Dillards)
SCHOOL TOOL: HP 39g+ graphing calculator
Name: Tressa
Look: PREPPY
THREADS: LSO Designs striped blouse, matching corset; black leather pants (Wilsons Leather); Gianni Bini "Joely" black leather boots (Dillards)
ACCESSORIES: Kelli's 7.5 CZ bracelet; Aliessa's round silver hoop earrings, Moore narrow drop pendant *
SCHOOL TOOL: Logitech wireless keyboard
Name: Rachelle
Look: BOHEMIAN
THREADS: Teal jacket (K-Mart) Butterfly Dropout yellow shirt BabyPhat evergreen shirt Bejeweled skirt; Gianni Bini "Wyatt" western boots (Dillards)
ACCESSORIES: Fashion Doll "BoHo Hobo" bag Simona's Mesh Gold metal diamond earrings *
SCHOOL TOOL: Mead Brights notebook (Wal-Mart)
Name: Melissa
Look: NUBIAN PRINCESS
THREADS: LSO Designs black tank; Jovani skirt
ACCESSORIES: Rayanne black lacquered wooden bangles * Teresina gold disc ring * Lady Amazonia gold leaf necklace * Mossoro gold leaf dangle earrings *
SCHOOL TOOL: Nike swoosh portfolio by Mead (Wal-Mart)
Campus Chat
Name: Tiffany
Look: URBAN SUBURBAN
THREAD: LSO Designs soft denim-look outfit
Butterfly Dropout hot peach top
ACCESSORIES: BabyPhat 18-kt. white gold and diamond hoop earrings
Name: Monica
Look: MIDWEST HIP
THREADS: Multicolored suede-patch poncho (Wilsons Leather) & Company couture jeans (Dillards)
ACCESSORIES: Diamond-shaped drop earrings *
Name: Ashley
Look: HIP-HOP GODDESS
THREADS: BabyPhat Denim and tweed miniskirt set
Fashion Doll Chocolate/aqua hobo bag, neck sash
ACCESSORIES: Chima's jeweled wood bangle bracelet *
Social Hour
Name: Maria
Look: CASUAL/SOPHISTICATED
THREADS: Aida Blouse Gabriella Pants by Giani Binni (Dillards)
Name: Kristen
Look: CASUAL/CHILLING OUT
THREADS: Bejeweled lavender wrap top, Belladonna tank, Gianni Bini (Dillards) Blue Cult couture jeans
Name: Dominique
Look: CASUAL/FLIRTY
THREADS: Jovani rose top; Levi's Signature jeans
Details: Self-esteem flash cards, (Le Chic Chick); Nate Berkus pillows (Linens-N-Things)
Beautiful Necessities
Don't forget your cool undergear and accessories!
Name: Sheena
Look: CAMPUS CHIC
THREADS: Fruit of the Loom soft and vibrant tank and bra
ACCESSORIES: Beads and bangles (Emitations.com)
10 CAMPUS STYLES Which Diva Are You?
Clothes may not make the woman, but they surely give insight into her personality. When a young woman leaves home for college her personal fashion style begins to emerge and take shape. Before long, even her parents might not recognize her. Do you know what your fashion sense is saying about you? The following are 10 top campus styles and what they mean. Look closer--you may see yourself!
1. Urban-Chic
Your definition of style may be shaped by the fashion books or runway looks, but truthfully, you also dig deep from within to express yourself. You love to experiment with different fabrics, yet funky high-heeled boots in the fall and gorgeous strappy sandals in the spring are a mainstay in your wardrobe. You love the high-end look, but you're shrewd enough not to pay top-dollar to achieve it.
2. Preppy
You likely come from really old money, or at least you dress the part. Your wardrobe may be tailored, or you may have a database of personal shoppers. Your style of dress is classic and refined. Your wardrobe is an investment, and only the most impeccably styled items will do.
3. Bohemian
Part social studies student, part social butterfly, the Bohemian diva is bound to bring sunshine to any room she enters. She's fond of every color of the rainbow, and in many cases will wear them all in the same outfit! The Bohemian is known for perusing the upscale second-hand stores to find that vintage Chanel bag for under $100; or she may just as easily shop at her neighborhood department store to buy unique pieces right off the rack. She's not consumed with spending major dollars on brand-name items; she doesn't dress to impress, instead she impresses when she dresses.
4. Nubian Princess
You are a proud Sister influenced by the Motherland and you love to hold your head high with your fashions. Never will you be caught wearing an outfit that doesn't flatter you from the top of your gorgeous natural crown to the tip of your toes. You adore genuine articles from the African Diaspora, but you're also fond of bold colors (red and orange hues seem to be your favorite) that are known to stop traffic whenever you appear before your loyal subjects!
5. Midwest Hip
Your warm, down-to-earth personality can sometimes be affected by the cold Midwest weather, so you tend to bundle up during the cooler fall months. Your style isn't under wraps, though; you crave colorful suedes and leathers, and warm cashmere sweaters in rich, vibrant colors that get noticed under those layers! When you're going out on the town, you have that favorite form-fitting black dress, black riding boots and fur jacket that you like to wear. You have more jeans than you'd like to admit, and no two pairs fit the same.
6. Hip-hop Goddess
You're the Sister who makes hearts sing when you bounce on the scene. You're fond of wearing couture urban labels, and you take pride in spending a lot of money on your wardrobe. Designer knockoffs are a major sin. From high-end threads to one-of-a-kind jewelry and accessories, you're always ahead of the curve when it comes to hip-hop music and fashion.
7. Casual Sophisticated
You don't need to be in a business suit to let them know that you're all about the business. You adore long skirts with wiggle room, black or brown leather pants that show you've been to the gym and you have more conservative blouses than Judge Mablean of Divorce Court. Tattered jeans and slogan T-shirts are against your (fashion) religion.
8. Casual Chilling Out
You've mastered the fine art of dressing down without looking down-and-out. Your casual look may consist of a crisp cotton blouse, a pair of corduroys and low-heeled boots, or perhaps your favorite jeans, gym shoes and a school jersey. You can wow them all with your threads if need be, but for the most part, your laid-back personality gets all the rave reviews you'll ever need.
9. Casual Flirty
You may not wear your Sunday best, but you do want to be noticed when you walk by. Your slacks are hip-huggers or fitted, your skirts are flirty and your tops are cut a bit low. You are especially careful that your threads are comfortable for the school activities at hand. (Read: You wouldn't dare wear heels to a football game, unlike that Urban-Chic diva!) You adore soft, eye-catching colors like periwinkle, rose and teal because you aren't to be mistaken for "one of the guys."
10. Campus Chic
You're a campus chameleon; you wear what is popular, but you're not a copycat. You may be a Bohemian diva one day and a buttoned-down sophisticated woman the next. No one can predict what you're going to wear, because you dress according to how you feel. You're also known for changing your outfits at lunchtime--you can't be caught wearing the same thing between your morning and afternoon classes! Because of this fashion sense, of all the divas listed here, you're the one most likely to be found in the laundromat every Saturday morning with 10 loads of clothes!