Summer soirees: in the Big Apple - Ebony Fashion Fair - Buyers Guide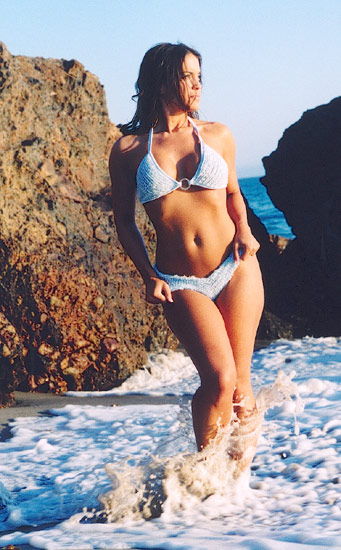 Multicolored chiffon and satin caftan with patchwork design has asymmetrical sleeves. Accessorized with jewelry and sandals. By Afridesia.
[ILLUSTRATION OMITTED]
Right: Shimmering, body-hugging, pink spaghetti-strap column gown has rose appliques on sheer mesh bodice and satin skirt. Worn with pink sandals. By Zang Toi.
[ILLUSTRATION OMITTED]
Far right: Luminous multicolor, multi-layer organza skirt is topped with butterscotch satin camisole. By Afridesia. Accessorized with matching shoes,
[ILLUSTRATION OMITTED]
The summer party season is in full bloom, and New York designers offer Plenty of options so that you can create excitement on the social scene at summer soirees this season. From Afridesia's colorful multilayered chiffon skirt to Zang Toi's sleek pink satin gown to Oscar de la Renta's elegant lacy skirt, there is something to fit your style and party needs. Fabrics are light and breezy, colors are vibrant and the designs showcase our greatest asset: beautiful skin. So whatever is on your social schedule this summer, you can steal the show by taking inspiration from the designer creations showcased on these pages.
Left: Make a sexy yet elegant statement in Oscar de la Renta's platinum-hued ensemble of cutout leather floor-length skirt worn with sleeveless satin and lace top. Accessorized with bronze sandals.
[ILLUSTRATION OMITTED]
Above: Baby blue dirndl knee-length skirt is worn with off-the-shoulder top in same colon By Luca Luca.
[ILLUSTRATION OMITTED]
Right: Three-tiered strapless yellow accordion pleated minidress is worn with gold-tangerine duster. By Afridesia. Note: Yellow feathers in hair.
[ILLUSTRATION OMITTED]
Left: Pale yellow Knee-length dress has tree-quarter length sleeves with button accents and flowers at boat neckline, tied at waist with ribbon. Note: Mesh ruffle on matching shoes. By Zang Toi.
[ILLUSTRATION OMITTED]
Right: Bill Blass ensemble pairs white blouse with three-quarter-length sleeves with long orange-red ruffled panel skirt.
[ILLUSTRATION OMITTED]
Above: All-over sequined pink, white, green and red candy stripe evening shirt and skirt are tied at waist with green ribbon. By Zang Toi.
[ILLUSTRATION OMITTED]