Super models - they better work - fashion and beauty pioneers finally rewarded - Brief Article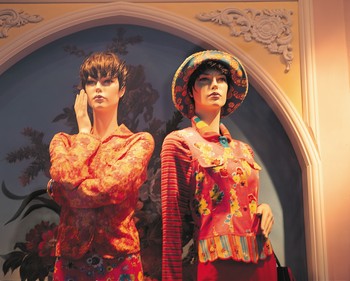 When Barbara Summers told Eileen Ford, the grande dame of the modeling industry, that she wanted to write a history of Black models, Summers was greeted with a wry snort and a brusque comment: "It's going to be a very short book."
Ten years later, Ford has been proven wrong. Summers's book, Skin Deep: The Inside Story of Black Fashion Models (Amistad Press, $55), is long, rich and inspiring.
"I just fell in love with how beautiful Black women are," says Summers, herself a former model. "We didn't know how wonderful we were, how beautiful and how long we'd been there."
The breakthrough for Black models came in the 1970's. It all began on November 28, 1973, at Versailles, just outside Paris, when five American designers were showing their collections alongside their French counterparts to celebrate the restoration of Louis XIV's opulent palace.
The Americans brought with them Black models Billie Blair, Alva Chinn, Pat Cleveland, Norma Jean Darden, Charlene Dash, Bethann Hardison, Barbara Jackson, Ramona Saunders and Amina Warsuma. The audience was intrigued.
"We went out into the world, and the world appreciated us: Europe, Japan," Summers says. "They made Americans open their eyes wider than they had before."
While the victory at Versailles took place on the runway, Summers notes, the most recent successes have taken place on the printed page--in magazines and in advertisements. Tyra Banks signed a major advertising contract with Cover Girl and won the cover of Sports Illustrated's swimsuit issue; Veronica Webb was chosen to represent Revlon.
Still, there are enormous hurdles and familiar frustrations. Naomi Campbell, for instance, has yet to reap the financial rewards or a contract with a major cosmetics firm. Just recently, the dearth of Black runway models was vociferously lamented in the fashion world, but Summers sees modest hope in the ever-changing nature of fashion.
"The industry goes through a phase of [favoring] light-skinned girls with long hair and moments of brown-skinned girls with short hair," she says. "The cycles are never-ending." Through it all, Summers claims, Black models will always have their day.
"I have such respect for these women," she adds. "They are so adventurous. [Skin Deep] is all about recognizing that. It's important for Black women to feel that they have a sense of power in this business."