The Magic formula: building on last year's apparel successes - MAGIC fashion show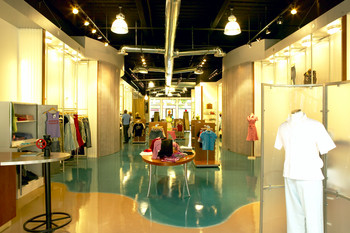 LAS VEGAS -- Tricked-up details were out at this year's MAGIC show last month, as cleaned-up apparel fashions ruled the floors. The Las Vegas Convention Center and Sands Expo Center were both filled with clothing designed to meet demand from conservative buyers. Though improved sales industry-wide have retailers in an optimistic mood, they aren't taking any chances, looking to build on last fall's successes for back-to-school '04.
Overall, denim is expected to rule the marketplace; men's, women's and children's vendors all reported strong sell-ins. Fashion five-pockets and muted, mid-tone indigos dominated, while streaky denim was gone--even in juniors.
In tops, embroidery is a key update to best-selling men's casual woven shirts, in Western or tattoo motifs stitched over batiks and plaids. This look was prevalent in classic lines like Perry Ellis as well as board sports brands including Quiksilver and Op. While men's wovens are strong, knit tops have been 'difficult,' according to many vendors. However, knits remained the focus in juniors' and women's, especially fine-gauge draped jersey shells.
Another trend that stood out in men's casual wear was "a lot of color," according to Gary Rubin, vp of product development at Saks. Eye-popping shades may help improve sales and add life to presentations in men's wear across the industry next fall, which has lagged behind women's the past few seasons.
The women's wear lines showing at the Sands were fairly neutral, dominated by clean silhouettes in black, taupe and off-white. As at Fashion Week, there was a mix of 40s-style silhouettes, punctuated by softened mod pieces: less OpArt and more belle du jour, including the important mini. The mood for fall was wear-to-work and ladylike.
For the juniors set, the trend that stood out was "color," said Target designer Susan Sheffield. Marc Jacobs-influenced candy brights were everywhere, from pointed-toe jelly flats to hair accessories.
In both girls' and boys' wear, designs still reflect the styles expected to sell well in adult sizes. Designs have steered away from the juniors market, however, especially in I/T sizes, with more traditional bows and frills, less low-rise jeans and peasant blouses.
Of the few new lines at the show, the one that got the most attention, was a lingerie-focused grouping from Pamela Anderson. There were a number of other celebrity-based offerings as well, including hotrod legend Von Dutch, with a booth that tripled in size, mirroring a sales jump from $16million in 2002 to $33 million in 2003.
There was also growth as well in the fast-moving activewear category, including as a new Atlanta Hawks themed line from NBA team co-owner Dominique Wilkins.
Industry veterans also showed product for the first time, such as accessories manufacturer Designs by Skaffles (DBS). "MAGIC actually contacted us about appearing at the show, saying that retailers were asking to see 'the company that makes the candy lines,'" said Steven Shweky, vp and owner. This referred to Skaffles' line of candy-licensed accessories, cosmetics and intimates. Indeed, the team from Claire's Boutique--a key account--filled the Skaffles booth during Shweky's interview.
Successfully attracting retailers from far and wide, the show's offering has diversified in areas including resort. "Because of our tropical location, our needs are slightly unique, and MAGIC helps bring all the trends together," said Val Petrossian, men's buyer, Wal-Mart Hawaii. Product expansion was the case at the Sands as well, where handbag and footwear vendors showed their wares to positive effect.
Brands still dominated, especially the aforementioned celebrity-based and athletics-oriented lines. Combining both, VF Jeanswear showed its upcoming Wrangler Jeans Co. line, featuring NASCAR star Dale Earnhardt Jr. as spokesman, placed across mass for back-to-school. "We are extremely pleased with the response to our new line, especially to the denim, by Wal-Mart, Target and Kmart," said Joyce Markwell, vp and gm, mass market male brands.
During MAGIC, Levi Strauss announced that it will partner with NASCAR driver Jimmie Johnson for its mass-market Levi Strauss Signature line, in an attempt to heat up competition. As part of its sales turnaround strategy, Levi Strauss also launched a new licensed line of juniors tops in conjunction with Jerry Leigh at the show, and children's wear licensee Haddad is pleased with the performance of its Levi's Red Tab merchandise at Kohl's and JCPenney's.
In children's, adult brands, like grown-up fashions, maintained a strong presence, with new lines, including a new Lee offering through Lollytogs Ltd., continuing to come to market.
Licensing was definitely a theme, including a new line of Dickies hunting apparel featuring RealTree camouflage, designed to expand distribution in specialty sporting goods stores. Character licensed product also got heavy play not only kids', but also in everything from streetwear to classic T-shirts. Whether small-screen properties from Nickelodeon or film properties from Universal, 2003's entertainment licensing resurgence continues.
"Our Lot 29 line by South-Pole, now in juniors as well as young men's, has been growing rapidly," said Maribeth Towers-Toth, director of apparel for Warner Bros. Consumer Products of this streetwear offering that features edgy renderings of Looney Tunes characters.
Disney also maintained a strong presence at both the LVCC and the Sands. It launched a new tween apparel property, Disney Cuties, through Mighty Fine, which is based on new anime-style renderings of classic characters, and Hot Topic buyers took notice. Like Warner Bros.' Lot 29, Disney also has high-end lines focused on classics like Mickey, including cashmere sweaters from Tracy Ross coming in at $400 at Barney's, attracting incremental customers to its Kmart shoppers.
More than ever, it is clear that MAGIC remains a key destination for those in the apparel business. "You have to have this show," said Alan Markway, children's dmm at Goody's.