The swan: growing up in Ethiopia, she was considered a bit of an ugly duckling. So how did Liya Kebede become a runway sensation and the new face of Estee Lauder? Friend and fellow supermodel Iman shares shoptalk and secrets with fashion's latest It girl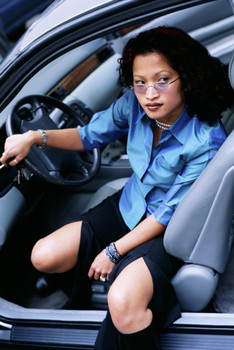 WHEN IMAN--THE MODEL WHO SMASHED TRADITIONAL NOTIONS of beauty--started out, all sloe eyes and elongated neck, the notion of an African model was so exotic that photographer Peter Beard concocted a story designed to feed right into Western stereotypes of the Dark Continent: He told the press in 1976 that he'd discovered the Somali beauty herding goats. Never mind that she was actually a university student, a middle-class Muslim girl fluent in five languages.
For Ethiopian-born model Liya Kebede, also long of neck and limb, there was no need to hide behind a made-for-Hollywood tale. Instead, hers is a story of slow, hard work. She has the exquisite face that launched a reported $3 million cosmetics ad campaign last year, making her the first woman of African descent to be awarded a highly coveted and lucrative contract with Estee Lauder, one of the world's biggest cosmetics companies. She was picked for her international beauty and, in fashion parlance, "edge"--in other words, to appeal to a larger and younger base of customers who increasingly come in skin tones other than vanilla. Iman agrees: "I think for Liya, things are just beginning, I really do. She is the next Black model to pick up the baton."
Kebede was raised comfortably middle-class in Addis Ababa, the only girl in a family of boys, a tomboy with little interest in the vagaries of fashion--except for that Naomi Campbell poster in her room. She didn't have the attributes that turned heads in Ethiopia: big eyes, curvy figure. But she was tall and thin, and so she figured, why not try modeling?
She endured years of no and maybe as she worked in Paris, Chicago and New York. Along the way, she married her husband, Ethiopian hedge-fund manager Kassy Kebede, a man with whom she was instantly smitten. "We had one and a half dates," Liya says, "and then he had to go away. We were on the phone talking for two months. After that, we were never apart." Finally, in 2000, the fashion world took note of her cool elegance: Designer Tom Ford hired her to walk the runway for his fall 2000 Gucci collection. The door was finally open. And the offers started flying in.
Never mind that she was pregnant with her son, Suhul, now 4. Many thought that the pregnancy would interrupt her success. Kebede wasn't worried. Having a son, she says in her soft-spoken way, keeps her focused on what matters. Fashion is a career. Her family is her life.
Liya Kebede sat down with Iman, now founder and president of IMAN Cosmetics and I-IMAN Makeup, to talk about fashion, family and concepts of beauty. Washington Post reporter Teresa Wiltz facilitated their conversation.
Iman: Tell me the story behind the rise and rise of Liya.
Liya: It started back in Ethiopia with the fashion shows and events like that at school. And then I got passionate about it. Before that I had never really thought about modeling professionally. I thought I could model part-time to pay for school. I worked in Chicago doing catalogs, and there everybody scares you about modeling in New York. They say, "Oh, they're going to eat you "alive." It was very discouraging. But eventually I moved to New York with my husband. Once I got there, it was still a slow process. I mean, it's been about four and a half years now. But I'm working.
Iman: And today you're the new Estee Lauder gift. Big change. You're now a role model. How do you feel about that?
Liya: It's like a dream for me as a model to have a contract. So I'm happy; at the same time, I understand, yes, it's a change for the company, so everybody's looking at me to see how I do. But if I can bring anything positive to the situation, I'm happy to do it. Being part of the image of a major cosmetics company shows others that they can do it, too.
Iman: What about growing up in Ethiopia? What did your girlfriends consider beautiful when you were a teenager?
Liya: First of all, what is seen as beautiful in Ethiopia is totally the opposite of what is beautiful here.
Iman: Were you considered beautiful there? Because now you're known as one of the most beautiful women in the world.
Liya: No. I was the skinny girl and people were saying, "My God, feed
her. Do something." And I was like, "I am eating; leave me alone." The funny thing is that now when I go back, I see all the women, and they're all like, "I want to be skinny." Life changes so quickly.
Iman: I don't look much like the average Somali girls, and they are very beautiful women. They are round girls. And when I go home, I'm celebrated for a day, but they still don't think of me as beautiful, ever. In Somalia they think, If Iman can become a model, any Somali girl can. And they're right. There are many beautiful people there. Truly. What do you miss most about Ethiopia?
Liya: I miss the simplicity of life, the fun. The air I miss. My parents. Everything. The first thing I do when I go back to visit, as soon as I get off the plane, is take a whiff of the air. It's not polluted; it's clean. The grass, the trees, the flowers. And it's like, "Ohhhhh, okay, I'm home."
Iman: What misperceptions do Americans have about Ethiopia?
Liya: People tend to think that Ethiopia is this raw desert. And it's not that way.
Iman: That's one of my pet peeves. It really does irritate me because they think Africa is a continent of beggars.
Liya: It also seems that the only time you hear about an African country is when something really bad happens.
Iman: Exactly.
Liya: So the only image people have of Africa, or of a country in Africa, is when it's at its worst. Bad things do happen at times, like the famine in Ethiopia. Many people died in it; it's very sad. At the same time there's a whole other 70 percent of the country that works normally. It's a small African country. It has roads and buildings and cars.
Iman: A small African country, but an ancient African country.
Liya: Very old, with lots of history, lots of culture and many beliefs.
Iman: Do you have a deep belief yourself?
Liya: I do. If you grow up in it, religion is part of your life, your culture. I'm Coptic Orthodox [Christian]. My everyday life is influenced by that. I wake up in the morning with God, and I do things accordingly. It's a lifestyle. I hope it makes me a lot more generous.
Teresa Wiltz is the arts writer for The Washington Post's style section. She profiled model Naomi Campbell last September.